Kings Mountain trip October 2003
---
---
Broad River Genealogical Society - Shelby, North Carolina. A Must see if in the area doing research.
---
The Gaffney Peach water tower. An object of humor when lit at night.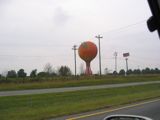 ---
Kings Mountain Military Park. I really liked the old trail signs better, but then if I had better skill taking pictures they may have come out better.
The Commemoration of the 223rd Anniversay. It began promptly at 3:00 pm and ended just after 4:00 pm just like the battle.
---
---
Visiting some of the Rawlins Family gravesites with Bev Barnes. She was a tremendous help finding these locations.
---
A rainy detour to Myrtle Beach, SC to visit the QVC Outlet Store. It is now closed and wasn't worth driving this far in the pouring rain to visit.
---
The South Carolina State Fair in Columbia. By happenstance we were there on the day the fair was open to individuals with special needs. It was touching to see the relationships between the caretakers and those who they were caring for.
---
Maurice's BBQ in Columbia. They use a mustard based sauce that's worth going a long way out of the way to get.
---
Stone Mountain Park near Atlanta. We visit nearly time we are in Atlanta. This is the Confederate States Memorial and the largest attractioin in the state of Georgia.
---
A few pictures from a visit in 2006
---
The tram to the top of Stone Mountain. The carving on Stone Mountain dwarfs anything else. Mount Rushmore is piddly in comparison.
---
The Antebellum Mansion at Stone Mountain
---
Fat Matt's - my favorite eatery in Atlanta. My first visit was in August 199, people watied out side in the rain to get in. Yes it was worth it. By the way, a true Southerner is one who while eating one meal plans the next one!