Kings Mountain & Sandy Run Baptist Church visit - June 2002
---
In the spring of 2002 I traveled to Charlotte, North Carolina on business. While there I was also able to visit both Kings Mountain and the Sandy Run Baptist Church.
For better or worse the signage along the trail at Kings Mountain was changed between my 2002 and 2003 visits. As for me I am partial to the signage from this trip in 2002.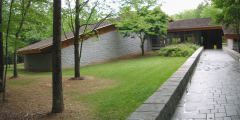 Along with a theatre which show video presentations of the events at Kings Mountain there is an excellent bookstore. You can also purchase period clothing, toys and other items. Check out the Kings Mountain Website for details.