Finding our family's origins hasn't been easy nor particularly successful
---
Much is simply unknown when it comes to the origins of James Mason Rawlins and his wife Priscilla Blount. Two wars and countless hurricanes have not been kind to what records were once available. Here we will explore what is hearsay and what we know.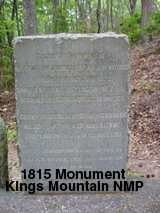 With no hard evience finding the facts on the lives of James and Priscilla has been an adventure in its self.
When the opportunity to travel to the Carolinas in 1999 we went to Kings Mountain National Military Park near Blacksburg, South Carolina. We also visited the Sandy Run Baptist Church graveyard in Mooresboro, North Carolina.
We left with more questions than answers and returned again in 2002 and 2003.
The information on the above JAMES MASON RAWLINS has been passed down orally and has been published. However, at this time the Compiler has no proof by virtue of Bible.
Roderick Alexander Rawlins, who is prominently identified with the growth and prosperity of Dallas County, Texas, is a descendant of James Mason Rawlins, who was of pure English descent, and came with two brothers Charles and Roderick, from England to America some years prior to the Revolutionary War.
Traditionally we have been told that James Rawlins was a troy leader and that his oldest son, Roderick was born near where the battle of Bunker Hill was fought during the Revolution in the year 1776.
On July 4th, 1996 a group left Nauvoo, Illinois and begin their journey to Salt Lake City. This western migration was't be as slow as the teams & wagons used by our ancestors, but it certainly was equally arduous, as they will cover the nearly 1,300 miles on bicycles.
New informatin will be posted as it comes available.