Kings Mountain National Military Park
The Battle of Kings Mountain, fought on October 7, 1780, is one possible end to the life of James Mason Rawlins. As we all know James was well known for his skill in the art of ledgerdemain. It seems he is still continuing with that skill.
The Battle of Kings Mountain is also one of those pivital points in history that I somehow missed in American History classes. Both the Whig and Loyalist forces each numbered about 1,000 men. Major Patrick Ferguson, who scorned these "back water men", was killed during the battle. The toll of the battle was 225 Loyalist killed with 163 wounded and 716 taken prisoner, while the "black water men" lost 28 men with 62 wounded.
My personal interest in this battle is that James Mason Rawlins is said to have been with Ferguson at this time. Regretfully the loyalist records were destroyed during or shortly after the battle. The few records kept by the Whigs were later also destroyed. The weather had been rainy for days before and the sun quickly set and darkness prevailed. The victors had to make camp among the dead, dying and wounded. The cries and begging for a little water from the wounded Loyalists went unheeded. The next morning the sun came out for the first time in several days. The Whigs anxious to be on their way home carelessly buried the dead under old logs and rocks. It was several days until families were able to come to the mountain and claim their dead and not all were able to be identified.
---
Additional Kings Mountain Resources
---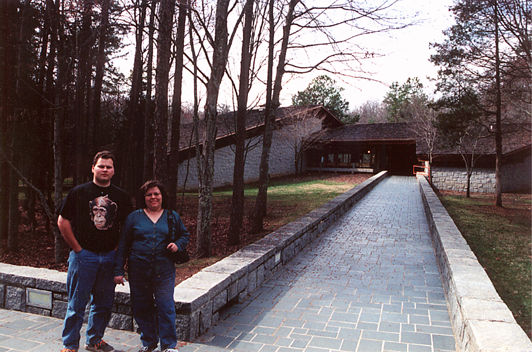 Kings Mountain Visitors Center
---

Levi at Kings Mountain
---

Small Spring on Kings Mountain
---

View from the spring
---

Centennial Monument
---

Cairn of Major Patrick Ferguson