History of George Quayle Matkin
(By George O. Matkin)
Born at Hyde Park, Utah 3 April 1887 in covenant. Blessed 5 May 1887 by Isaac Woolf, Baptized 9 April 1895 by W.A. Seamons, Confirmed 9 April 1895 by E. S. Olson, Ordained Deacon 14 February 1905 by Joseph Kay, Elder 10 Dec 1911 by L. J. Petty. Ordained High Priest date unknown.
George's father was a polygamist and his father left him at birth and never returned from Canada and he never saw his father. He did have a few letters, of which copies are available before Samuel died in 1905 when he was 17 years old. This left a bitter attitude towards his father and he spoke very little of him.
When he was 9 years old his mother homesteaded 160 acres in Swan Lake, Idaho, with the help of Albert Talbot, her half sister Rozina's Husband. By this time George had worked in Logan while staying with his Grandmother Duce, and saved enough money to buy a team of horses and a wagon. This was used when they moved from Hyde Park to Swan Lake. With the help of relatives and the family, mother Permelia and sister Blanche they built the old log home on the homestead which survived until 1980. With the team he cleared the ground and started farming. Of the 160 acres, only 50 were level enough for farming. They diverted the old stream so the ditch ran past the home, however during the dry part of the summer the ditch would dry up and they would have to go up stream as much as a mile for water. This ditch still remained when I was working the farm before 1938. All three worked very hard and there was always people coming through Swan Lake that needed a place to stay a day or two that was welcomed. They all had a hard life and had to work for everything they had as they got no help from the father in Canada.
When George was of age he homesteaded the ranch of 480 acres, of which only a small part was level enough for farming. The cedar hill is a landmark that can be seen for many miles in all directions. Only 55 acres was under cultivation until 1925 when he started breaking up more land. I remember riding the rail when I was only 6 years old. He had 6 head of horses hitched to the rail, about 20 feet long, with a log platform built over it. After railing and uprooting or breaking off the sagebrush we would, in the fall of the year go out and burn it. This continued for several years and when I left the farm in 1938 there was about 140 acres on the ranch under cultivation.
George was married to Julia Constance Allen December 20, 1911 in the Logan, Utah Temple, sealed by Thomas Morgan.
Dad knew nothing in his life but hard work and had only a few years of schooling. I know when I was a small boy I would worry about him working himself to death. He never let a minute of light get away. He would be up pounding plowshares, ect. in the shop before daylight and he never quit for the day until after dark. He was the top blacksmith in the entire area and received his training from Uncle Charlie Drury, a bachelor. Many people travelled distance to get to his shop and many took advantage of his good nature and never paid for the work. He was tough and rugged, one time I was with him when we drove a team and wagon 13 miles to Cottonwood for logs to build a derrick. The first drag his foot slipped under the drag and broke his leg in three places. He went back for the second drag, loaded the logs by team and skids, then drove back home. This was Saturday and finally on Monday he went to Doctor and got a cast. When he got home that day he went to the shop and built himself a wooden leg which strapped to his leg and the knee and strapped to his waist, he lost no time working.
Dad always carried a bitter attitude toward his Father and about the Church. I only remember him going to church a couple of times while I was living at home.
He was very intent on making a living and was always very conservative. He only spoke to me in a demanding way telling me what he wanted done. I knew when he spoke I moved, however, he never once ever spanked or slapped me. He was very disappointed when I left the farm in the summer of 1938 after the harvesting was complete.
THE FAMILY
Mother and Dad was always too busy working, trying to take care of the 11 children that they had no time for any of us individually. There is nothing they wouldn't do for any one that was within their means. This was greatly demonstrated during the time Bert lay sick. They were always helping others, Dad doing free blacksmithing work for his neighbors and mother cooking dinner for the less fortunate. I guess the most recreation I had as a small boy was watching Thomas Waddups eat chicken without any teeth. He would go through many contortions, but he would get every bit.
There was never love or affection expressed in the home and I never remember any fights or quarrels between Mother and Dad. This is probably the greatest cause for us children not being able to express and love each other and for the friction that has existed throughout the years among us. There has always been jealousy and hurt feelings between various family members. Seeing what our family life was should have made us even more determined to make a drastic change and be able to understand one another and to show the deep love and concern for one another and for our own families.
I have tried very hard in recent years to overcome my problems and I pray that I can always be appreciative of my family, the descendants of George Q. and Julia Matkin.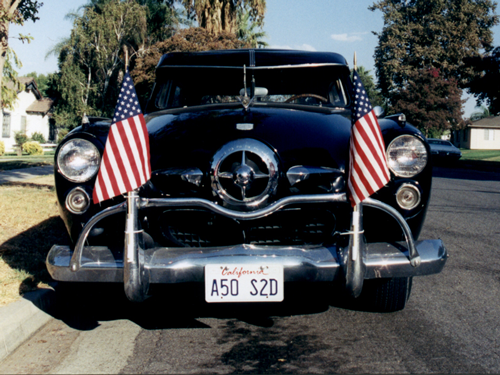 The 1950 Studebaker Commander that George drove is still running!